In recent years, at-home laser hair removal devices have proliferated. The prices of these machines have declined drastically. However, the effectiveness of at-home laser hair removal in darker skinned people of color can be more variable. Moreover, most of these devices are not meant to be used in those with very dark skin.
IPL Home Laser Hair Removal
Most of the of the bestselling home laser hair removal devices are based on a technology known as Intense Pulsed Light (IPL). The latter is actually not based on laser based energy. IPL systems typically output wavelengths between 500 nm and 1200 nm. When it comes to axillary (armpit) hair removal, lasers and IPLs have similar efficacy according to some studies.
The light from IPL devices is most effective on light to medium skin tones. It is also most effective on darker hair colors such as brown and black. IPLs are least effective on blonde, red, grey and white hair where there is less melanin to absorb the light energy radiation.
According to one study, light-based home-use hair removal devices can be a useful adjunct to professional in-office treatments. Many consumers prefer laser treatments to other hair removal treatments such as shaving, waxing, epilation, plucking, tweezing or electrolysis. Some of those methods can cause discomfort and problems such as ingrown hairs. However, most of these laser and IPL products will not lead to permanent hair removal. They can only be marketed to permanently reduce body hair.
My Experiences
I have tried electrolysis hair removal for many years. The process is inordinately slow, but ultimately successful. I have also tested two patches of my skin (forehead and lower back) with in-clinic laser hair removal. The latter treatment was too limited in scope to make any kind of conclusions. I have never used any of the at-home laser hair removal machines that are listed below. However, my skin is darker (type 4-5), so there are only a few devices that I can test when I ultimately choose to do so.
The Best At-Home Laser Hair Removal Devices in 2022
Below is a list of the best at-home laser hair removal devices in 2021. If you have fair skin or light brown skin, all the below listed devices can be used on your body. However, most are not meant to treat people with very dark skin unless otherwise specified. Even in those who have success in bleaching with skin lightening creams.
Always consult a dermatologist first and use caution when using these at-home laser machines for unwanted hair removal. If you are uncomfortable, it is best to get in-office or in-clinic treatment under professional medical supervision. Some products come with cooling technology and lower power settings for darker skin types.
Braun IPL Hair Removal (IPL)
This dermatologist tested Braun Silk Expert Pro IPL device is advertised for use in women. It is FDA cleared for permanent body hair reduction. It currently has approximately 2,200 average averaging 4.5/5 stars. You can also get the Braun Silk-expert Pro 5 IPL from Target.
It comes with the SMART IPL with SensoAdaptTM skin sensor (with UV protection) technology. This technology automatically and continuously adapts to your skin tone per the manufacturer. Thus making it safe to use for most people of color, including in the facial area, upper lips and underarms. You can use this product on a daily basis. Also check out the less expensive FDA certified Braun IPL Silk Expert Pro 3 hair removal device from Walmart. It has lower power settings and is suitable for medium tone skins.
Tria Beauty Hair Removal 3X (Diode Laser)
This popular at-home diode laser product from Tria Beauty is advertised as being 3-4 times more powerful than the IPLs on the market. It can be used by both men and women. Its power setting is 20 Joules per centimeter squared. Most IPLs are at around 5 Joules per centimeter squared.
The Tria hair removal laser also targets hair follicles at much deeper levels in comparison to IPLs, and at more concentrated energy levels. This supposedly means a higher chance of permanent hair reduction rather than just temporary. Average rating of 4/5 stars based on 1,500 reviews.
However, if you have skin tone that is darker than light brown, this powerful laser product should not be used. Like most other laser products for home use, if your skin is too dark, you can get permanent hyperpigmentation and skin burns. The Tria laser is cordless and powered by battery, so it can be moved around for ease-of-use. Tria also sells another less costly diode laser for home use.
Skin Color and Hair Color Treatment Chart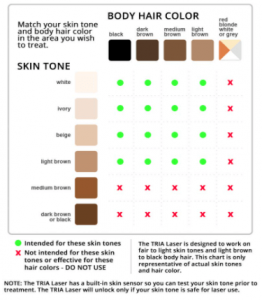 The skin color and hair color shade chart on the right is from Tria. The green dots represent the combinations where the company's at-home laser device can be used without fear of side effects and skin damage.
The combination of light skin and dark hair leads to best results for achieving smooth skin. If your skin is too dark (see Fitzpatrick skin phototype), do not use this laser. Same goes if your body hair follicle color is too light.
Huieter Hair Removal Device (IPL)
A sleek looking device with over 7,800 reviews averaging a very high 4.7/5 stars rating. Both men and women can use this product, and it has five potential energy levels. The product lifecycle lasts for a maximum of 999,999 flashes.
The "Manual" mode is meant to be used for small area hair removal such as bikini line, armpit, fingers and lips. The "Auto" mode can be used for large area, such as the full arms, legs, stomach and back.
With 300,000 pulses (flashes) over the product life, this Silk'n Flash & Go IPL will not require any cartridge replacement. Pulse duration is 500-800µs, good for sensitive skin. Also see the Silk'n BellaFlash Pro from Walmart.
Silk'N also has a popular Infinity enhanced pulse light line for laser hair removal. Both products have the same spot size of 0.9cm x 3cm [2.7cm²] and wavelength of 475-1200nm. The Infinity makes use of eHPL technology galvanic energy. It comes with an in-built sensor that releases varying energy depending on skin color.
After the first treatment, you will see slower hair growth. After the second one, you will see finer hair regrowth. Thereafter, you will see hairless patches and permanent hair reduction if things go as planned. At that point, you will require fewer maintenance sessions.
Philips Lumea Prestige (IPL)
The Philips Lumea Prestige device uses enhanced Salon IPL technology, adapted for effective use at home. Lumea was developed in collaboration with expert scientists and dermatologists and is safe for personal use. It offer pain-free at-home hair removal. According to the manufacturer's website: The first 4 IPL hair removal treatments must be undertaken every 2 weeks. Then touch up treatments are required every 4 weeks. After 8 touch-ups, you can enjoy hair-free smooth skin for 6 months.
The number of reviews of this product are limited on Walmart at the moment. The machine is corded and comes with a US adaptor that needs to be plugged into the mains when in use. Application time for the face area is just one minute. Power Voltage is 110-240 Volts.
Iluminage Touch (IPL & Radio Frequency)
The FDA-approved Iluminage device from Elos is a unique product that combines both intense pulsed light and radio frequency. This dual-wave approach can treat all skin and hair color types. A precision adapter allows for use on all skin areas, including the armpit. Glide the device over your desired treatment area and use it just once a week. Also make sure to see my detailed review of another hair reduction product based on Elos IPL and RF dual technology called Me Sleek.
no!no! Pro Hair Removal Device (heated wire)
While we have discussed lasers and IPL devices so far, the no!no! brand of devices kills hair follicles via heat energy. It delivers the heat via a patented Thermicon technology.
Exclusive to no!no! devices, this Thermicon technology transmits heat along a wire in the device's tip to crystalize visible hair from root to tip. Moreover, unlike the other machines discussed so far, the no!no! device can be used on all skin types and hair pigment types. Even dark skin and light hair. This product is cord free and rechargeable. Consumer Reports reviewed this product in 2013 and said that treated legs were never entirely stubble or hair free during six weeks of testing. Some users complain of redness and smelling burnt hair.
BoSidin Optimal Pulse Laser (OPL)
This BoSiden device uses Optimal Pulse Technology (OPT), which is a more targeted form of IPL. BoSidin's system combines optimal pulse technology with its medical-grade continuous pulse process and red light rejuvenation.
OPT inhibits hair regrowth, while red light accelerates tissue repair. The machine's dynamic cooling system pre-cools the skin immediately before the hair removal process begins.
After Treatment Care
After each laser treatment, it is imperative to avoid direct sunlight exposure to the treated area of the skin. Always cover it up with clothing and wear a sunscreen (SPF 30 or SPF 50) to protect your skin. If you suspect any adverse reactions, make sure to see your doctor of dermatologist immediately.