So you want to know what is the best skin lightening cream out there for your needs? Before proceeding, make sure to also learn about the potential dangers of skin whitening products.
The below list of dermatologist recommended 6 best skin lightening creams is applicable for both men and women. Cream reviews and ratings for each product that I rank on this page are generally highly favorable and numerous.
For dark skinned people, hyperpigmentation is a common cosmetic concern. Keloid scars, burns, stitch marks, age spots, acne scars, melasma, moles and more can all cause significant skin darkening in people of color. A first line of treatment is often skin lightening creams and lotions.
One can find numerous skin whitening creams online. On this page, I will review the best ones. Some people also try to lighten their overall facial complexion using bleaching creams. However, this is not generally recommended, as it can cause long-term skin problems. Moreover, the sizable quantity of skin lightening bleaching cream that needs to be used on the whole face can cause immediate adverse skin reactions. Not to mention the significant expense involved.
Skin whitening agents work by reducing the presence of melanin pigment in the skin. The most common method is via the use of tyrosinase inhibitors. Other mechanism of actions include via destroying melanin and melanocytes. Some people with advanced vitiligo undergo melanocyte cell destruction to remove the remaining excess pigmentation.
Skin Lightening Cream Ingredients
There are many natural and chemical ingredients that can lighten a person's skin. A few are especially popular with most dermatologists and doctors.
A compounded prescription cream that I got for my post-inflammatory hyperpigmentation (PIH) scarring included the following three ingredients:
Retin-A (Tretinoin — Vitamin A derivative) 0.1%.
Hydroquinone 8%.
Hydrocortisone 1%.
The label was written as RA/HQ/HC 0.1%/8%/1%. Hydroquinone with Retin-A and a corticosteroid (such as hydrocortisone or triamcinolone acetonide) is the most recommended combination skin lightening cream.
Other ingredients often found in skin whitening creams include kojic acid, alpha hydroxy acid, azealic acid, 4-butylresorcinol, vitamin C, cysteamine, tranexamic acid and glutathione. The last mentioned is more commonly taken in oral form. Many skin bleaching creams also contain mercury, which can cause major side effects. Some countries have banned such products.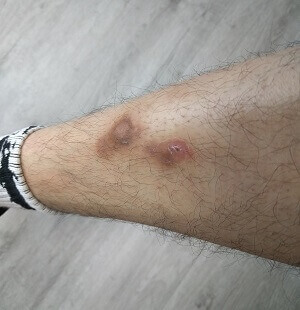 Lower Hydroquinone Levels

In the photo on the right is a skin lightening and brightening serum cream that I purchased online. It contains 2% hydroquinone. This is typical for most non-prescription over-the-counter (OTC) bleaching agents. Additional ingredients include:
Kojic acid.
Azealic acid.
Lactic acid.
Salicylic acid.
Hexylresorcinol (Synovea),
Vitamin C.
It is supposed to diminish dark spots and blemishes and even skin tone. I had mixed results on my stitch scar, although I did not use it continuously for 3 months as recommended. Moreover, you are supposed to use it twice per day for 3 months. I only used it once per day, and not even daily. More like 3-4 times per week. Also adding to the confusion, I was using the prescription high-strength cream that I mentioned earlier on some of the same days.
The Best Skin Whitening Creams in 2022
Below are some of the best rated skin whitening creams on the market in 2021. Please note that many of the customer reviews can be fake. Additionally, some are overly positive due to the manufacturer giving the reviewer free products for a favorable testimonial. Also watch out for photoshopped before and after photos.
Some of these will work well on people with brown or black skin, but others might cause no improvements. Many people only use these products in their armpits or private areas and avoid applying to the face. However, most should not cause any serious side effects on the face if used correctly as directed by the manufacturer. Stop application immediately if you see any adverse reactions. And never let any of these products come into contact with your eyes.
Intimate Whitening Gel
If you are looking for something that consists of primarily natural products, this Intimate Whitening Gel is very popular. Among the key ingredients in this product that will improve your uneven skin tone and complexion include: arbutin (a glycosylated hydroquinone extracted from the bearberry plant; niacinamide; licorice extract; hyaluronic acid; mulberry extract; retinyl palmitate (vitamin A); and tocopheryl acetate (vitamin E).
It currently has over 8,400 reviews on Amazon, with an average rating of 3.8/4 stars. Note that natural products will not be as effective as products containing chemical skin lightening ingredients. But side effects will also be fewer when it comes to natural ingredients.
Dark Spot Corrector Peptide Complex
This dark spot corrector product from "Divine Derriere" contains two proprietary ingredients: Tyrostat™, Melanostatine ™. Tyrostat is a potent inhibitor of tyrosinase enzymatic activity, which is responsible for pigmentation. It is an extract that is derived from the ecofriendly and natural rumex occidentalis plant.
Other ingredients in this cream include kojic acid, alpha arbutin, mulberry extract, and a lactic acid serum peel. Average rating on Amazon as of today stands at 3.9/5 stars based on 3,200 reviews.
Ebanel Dark Spot Remover Serum (2% Hydroquinone)
Ebanel's dark spot remover for face contains 2% Hydroquinone. In addition, it also includes azelaic acid, kojic acid, lactic acid, glycolic acid, arbutin, citrus fruit extracts, salicylic acid, niacinamide and bilberry leaf extract. It is marketed to be able to reduce both hyperpigmentation and melasma. Average reviews across almost 3,500 people currently stand at 3.9/5 stars.
EnaSkin Dark Spot Remover with 4-Butylresorcinol
A unique vegan cruelty-free cream that contains the key ingredient 4-n-butylresorcinol. Per some reports, the most potent inhibitor of human tyrosinase is 4-n-butylresorcinol. Other pigment reducing ingredients in this cream include kojic acid, lactic acid, salicylic acid and Morinda Citrifolia extract. This product currently has a sizable 2,500 reviews on Amazon, with an average rating of 4.5/5 stars.
PearlBright Dark Spot Remover
This interesting US-made product from Pearl Beauty contains Arbutin, Mulberry, Licorice, and Vitamins A & E. It currently has almost 11,000 reviews on Amazon with an average rating of 4.6 out of 5 stars. PearlBright can be used on sensitive areas such as the face, body, underarms, elbows and private parts. The lack of any damaging ingredients means that your skin will not break out or become overly dry and inflamed.
Alpha Skin Care Dual Action Fade Cream
This recommended product contains 2% Hydroquinone and 10% Glycolic Alpha Hydroxy Acid (AHA). It is free of parabens and fades dark spots caused by aging and sun exposure.
Regular use helps even skin tone and texture. After over 1,800 reviews, this product presently has a rating of 4/5 stars.
A number of widely cited brands that I did not cover include Amaira, Meladerm, Paula's Choice and Zeta White. Some of these are not sold or do not have many reviews on Amazon. Others are only meant to improve overall complexion and make skin brighter (rather than seriously reduce hyperpigmentation).
Alternatives
If these creams do not give the desired results, some people try out more invasive options. This includes laser treatments for dark skin, liquid nitrogen cryotherapy, TCA chemical peels, scar revision and more. This is especially true when it comes to raised hyperpigmented scars such as from keloids or hypertrophy.
People of color with ethnic skin tend to see these problems far more than people with white (Caucasian or East Asian) skin. However, companies such as Johnson & Johnson, Unilever and Nivea have been under fire for marketing these products in developing countries such as India, Indonesia, Philippines and Nigeria. In 2020, Unilever was forced to change the name of its popular Fair & Lovely cream. In western nations, people often prefer the tan look over a pale appearance.
Side Effects from Skin Whitening Creams
Skin whitening creams, gels and lotions can cause many adverse skin reactions. Among the more common include:
An increase in hyperpigmentation (skin darkening).
Hypopigmentation (excessive skin lightening).
Exogenous ochronosis skin discoloration (especially with excessive use of hydroquinone).
Redness, inflammation, swelling and blisters.
Skin peeling.
Skin thinning, thickening or atrophy after prolonged use.
Increased sun sensitivity.
Do not use these products if you plan to go into direct sunlight on the same day. Always ensure that the cream never makes direct contact with your eyes. And finally, avoid any products that contain mercury.
Botanicals and Natural Ingredients
Natural products tend to cause far fewer side effects and permanent skin issues. Many botanicals have some skin lightening properties. Among the more popular compounds isolated from plants that are used in skin lightening products include:
Aloesin (Aloe).
Arbutin (Bearberry).
Arctostaphylos (Manzanitas).
Licorice extract.
Hesperidin (flavanoid from citrus fruits). Inhibits melanogenesis.
Mulberry.
Niacinamide (a form of vitamin B3).
Soy.
Vitamin C containing plants and fruits.
Skin Lightening Cream Controversies
In 2022, Google announced that it will restrict ads for skin lightening products that "imply the superiority of one skin tone over another" beginning in June.
Also in 2022, the California Supreme Court ruled that allows customers to sue Amazon.com for failing to warn buyers that some products it sells on its site may contain hazardous substances such as mercury and other carcinogens. The original case involved a lawsuit filed in Alameda County that accused the online retailer of knowingly allowing dangerous skin-lightening creams to be sold on its website for years. This despite the company being aware of concerns regarding toxic mercury levels in such creams.