In recent years, Tranexamic Acid (TXA) has become increasingly popular for skin lightening and treating conditions such as melasma and dark spots. Tranexamic acid is a tyrosinase inhibitor and has anti-inflammatory properties that can even out skin tone. Note that TXA has not been officially licensed for use in dermatological conditions, so it is used off-label for skin applications.
Historically, tranexamic acid has been used to treat excessive blood loss (from surgery, postpartum bleeding, heavy menstruation and more) due to its blood clotting properties.
How does Tranexamic Acid Work?
According to DermNet NZ, the mechanism of action of tranexamic acid involves the shrinkage of dermal vasculature and reduced melanin synthesis. The latter is achieved via altering the interaction of keratinocytes and melanocytes, and via reduced tyrosinase activity. There are a number other products that reduce hyperpigmentation via tyrosinase inhibition.
Most topical products that contain tranexamic acid use 2% to 5% formulations. The oral dose used to treat melasma is 250 mg twice per day. A 2021 study found that a new topical tranexamic acid derivative improved overall facial skin tone and reduced the appearance of dark spots and redness.
Topical Skin Serums and Lotions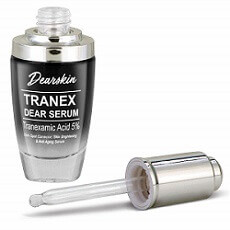 There a number of popular commercial lotions and serums that contain tranexamic acid. Among the most popular ones on Amazon is a 5% Tranex serum from Dearskin. It has an average rating of 4.3 out of 5 stars based on almost 1,000 reviews as of today. It is currently on sale for just $15 after a coupon discount.
Besides containing TXA, this product also includes other proven skin lightening and brightening ingredients such as kojic acid, niacinamide, vitamin C, hyaluronic acid and glycolic acid. Tranex has been tested by dermatologists and is cruelty free and vegan (not tested on animals). It is also formaldehyde- and paraben-free, and is made in the USA.
Another recommended product is The INKEY List's tranexamic acid 2% hyperpigmentation treatment gel. The low concentration makes this a good option to start experimenting with TXA. It also contains acai berry extract and Vitamin C.
Using Tranexamic Acid in Skin of Color
Dr. Rattan has a great video titled: "Is Tranexamic Acid Suitable For Skin Of Color". She is a fan of this ingredient since it is skin neutral. It works best on pH 5-7, which is approximately the same pH level as our skin. Dr. Rattan prefer to use tranexamic acid in combination cocktail products rather than via monotherapy, especially for stubborn melasma conditions.
Potential Side Effects
In general, Tranexamic acid is safe and well-tolerated by all skin types (assuming you use a reputable product and low dosage). Mild side effects include skin irritation, scaling or flaking, dryness and erythema. Most of these can be reduced with the use of moisturizer creams. Moreover, note that TXA can also reduce post-inflammatory erythema (PIE) and post-inflammatory hyperpigmentation (PIH) due to its anti-inflammatory effect.