New Aerolase laser treatments are increasingly popular for people of color with skin problems. A 2019 study interviewed a number of dermatologists regarding its efficacy in skin of color (SOC). Check out the Aerolase clinic finder on skinofcolorforum.
You can see many before and after photos and learn more about Aerolase aesthetic laser treatments on their Twitter and Instagram accounts.
Dr. Andrew Alexis recently had a great presentation showing the positive effects of Aerolase Nd:YAG 650-microsecond lasers on darker skin tones. Make sure to watch it in its entirety to see reports on Aerolase ablative laser treatments for conditions such as:
How Much Does an Aerolase Laser Treatment Cost?
Aerolase laser treatment costs range from $500 to $800 per session. However, prices can exceed that higher amount depending on clinic, city, country, and the size of the area being treated. Insurance is unlikely to cover such a cosmetic treatment, but many clinics will offer you payment plans.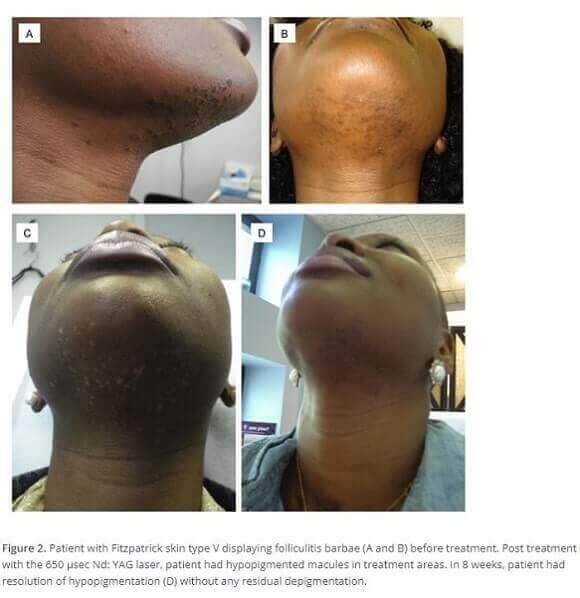 Treatment and Side Effects
Because the Aerolase laser technology uses a rapid 650-microsecond pulse duration, the device has time to cool itself between pulses. This limits the potential of any significant skin injuries or burns related to excessive light energy and heat. The treatment is generally described as comfortable by patients, with no anesthetic necessary. Mild transient skin redness is a common side effect.
This new laser technology penetrates the deeper skin layers more rapidly than the rate at which it conducts heat to the surrounding skin. This limits the chance of skin injury. Traditional 1064nm Nd:YAG lasers have longer pulse durations, resulting in higher chances of side effects in people with olive, brown, or black skin types.
Neo Elite®
The Neo Elite Aerolase laser is a versatile 1064 nanometer Nd:YAG laser that is FDA-cleared to treat 36 skin problems. Its single handpiece comes with a unique No Skin Contact™ technology. The Aerolase Neo's 650 microsecond technology has reinvented existing Nd:YAG laser technology. In contrast, most at-home laser hair removal devices are based on IPL technology.
Also see the below video from Dr. Jason Emer where he uses Aerolase for facial hair removal, and pigmentation and blemish improvement in a patient with darker skin.
Era Elite® and Neo V®
Note that Aerolase also manufactures two other important lasers:
The Era Elite represents a leap in skin rejuvenation anti-aging technology via its high-precision 2940nm laser. It delivers a high-fluence in a collimated beam, utilizing a gentle 300-microsecond pulse duration. Per Aerolase, these controlled pulses allow for full ablation of the epidermis without damaging the dermis. The final outcomes rivals fully ablative CO2 lasers, with a faster recovery time per the manufacturer.
The 650 microsecond 1064nm wavelength Neo V is primarily used to treat vascular concerns such as lesions and skin redness.
Aerolase Reviews
Online Aerolase laser treatment reviews seem to be generally positive with limited reports of any side effects. However, it is hard to find many reviews from people of darker skin tones (Fitzpatrick IV, V or VI). On RealSelf, most patients seem satisfied with the treatment and rate it highly.