For people with darker skin, chemical peels are not always safe. One needs to be especially careful with deeper high TCA peels that go beyond the epidermis and penetrate the upper layer of the dermis. In this post, I will cover the Cosmelan peel, which is relatively safe and popular with people of color.
The company that makes Cosmelan® is mesoestetic. You can purchase the home use product from Amazon, where it currently has an average rating of 4.5 out of 5 stars based on 207 reviews.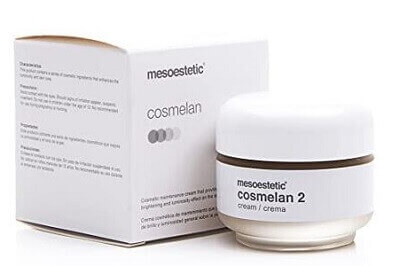 How does Cosmelan Peel work?
The Cosmelic peel treatment is used to treat melasma, brown spots and hyperpigmentation on the face. It can also be used in other body areas, although the face is the most common region. Note that one should try using skin lightening and bleaching creams first before proceeding to the more intensive peels.
There are two steps to the Cosmelan peel process.
Cosmelan Phase 1: An intense depigmentation process that should be undertaken at a clinic or salon under the supervision of a trained aesthetic professional. After application of the Cosmelan 1 mask, the customer goes home and allows it to act for between 8 and 12 hours. Usually, only one clinic visit is required as long as you adhere to the at-home aftercare regimen.
Cosmelan Phase 2: This is a home cream for use on the face to improve skin pigmentation imperfections. Cosmelan 2 is a maintenance product that needs to be used on a set schedule. A consistent treatment regimen will help regulate the overproduction of melanin for lasting results. One dermatologist (see video below) recommends using this product three times daily in the first month; twice daily in the 2nd and 3rd months; and once a day from the 4th month onwards.
Mesoestetic also sells a couple of other products to use afterwards. These include a soothing and melan recovery cream for sensitive skin, and a sun protection lotion. See more on their official Instagram account.
The Bombay Skin clinic has some great before and after photos of patients who got the Cosmelan Peel treatment. They classify this process as an:
Advanced medium depth peel treatment that is free from hydroquinone and steroids, thereby making it a safe peel.
Ingredients
Cosmelan contains multiple products that help with pigment removal. Cosmelan 1 contains azelaic acid, kojic acid, phytic acid, retinoic acid, ascorbic acid, arbutine, licorice extract, salicylic acid, retinol palmitate, tocopherol, bisabolol, allantoin, nicotinamide, aloe vera and titanium dioxide. Cosmelan 2 contains titanium dioxide, kojic acid, phytic acid and ascorbic acid.
Side Effects
As with any chemical peels, there can be some side effects with Cosmelan. According to the American Academy of Dermatology (AAD), among the potential side effects of chemical peels include persistent redness that may last for months; temporary darkening of the skin; lighter skin color; and, very rarely, scarring. In the hands of experienced dermatologists, such side effects are rare and usually transient.
The below video shows a full demo of the Cosmelan peel process on two African American brothers:
What Types of Hyperpigmentation can Cosmelan Treat?
Among the hyperpigmentation problems that can be treated with Cosmelan include the following:
Melasma.
Sun spots.
Age spots.
Acne scarring.
Post-Inflammatory hyperpigmentation (PIH).
Uneven skin tone.
Dark patches on knees, elbows and other areas of the body.
One darker skinned person even used this product for her undereye discoloration and dark circles. Her unbiased review on YouTube is worth a watch.