During the last several years, dermatologists have been increasingly prescribing cysteamine cream to treat melasma and other hyperpigmentation conditions. The most well known brand is Cyspera, which Dr. Corey Hartman really likes. He states that it is his:
First choice for patients dealing with hyperpigmentation, especially patients of color."
In February 2022, Practice Update concluded that stabilized topical cysteamine can be considered a first-line non-hydroquinone option for patients with various hyperpigmentation related conditions. This includes melasma, postinflammatory hyperpigmentation, lentigines, and dyschromia related to facial aging.
Cysteamine
Cysteamine (not to be confused with cystamine) is a naturally occurring amino acid (via cysteine or cystine) in the human body.
Since Cysteamine is a natural antioxidant compound, it usually results in no major long-term side effects in skin. In contrast, the gold standard popular hydroquinone treatment can cause permanent skin damage, especially in people of color.
One 2020 case report found that topical Cysteamine 5% cream significantly improved a person's chronic postinflammatory hyperpigmentation (PIH). Moreover, this patient with skin type 5 saw no results from using a popular triple combination cream (containing hydroquinone, topical corticosteroids, and retinoids). The skin lightening effect was noted by a reduction in the melanin index.
A 2014 study from Iran found Cysteamine 5% cream to show significant efficacy in the treatment of melasma.
Cyspera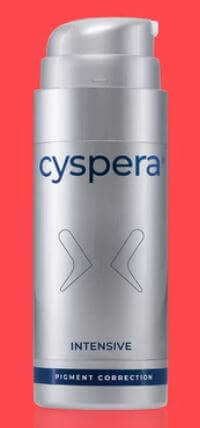 The main product that is currently available on the market is Cyspera pigment correction cream. The manufacturer Scientis Pharma (Switzerland) has an Instagram page with some good before and after photos. They sell the product in a three can combo called The Cyspera Intensive System™. It costs $285 on their website, but is not currently sold on Amazon. The system consists of:
Cyspera Intensive™ (30 ml / 1 fl oz).
Cyspera Neutralize™ (50 ml / 1.75 fl oz).
Cyspera Boost™ (30 ml / 1 fl oz).
The main ingredient is referred to as Cysteamine Isobionic-Amide Complex™.
Dr. Alexis Stephens has a useful video covering this cream. Board certified dermatologist Dr. Dray (Andrea Suarez) reviewed Cyspera in an unbiased manner in 2020. American Academy of Dermatology President Dr. Seemal Desai is a fan of this product.
Also see the below video from Dr. Sheila Nazarian at the Skin Spot:
It used to be too difficult to compound a 5% cysteamine based topical cream that was stable, but Cyspera managed to overcome this challenge. One minor issue with this product is its strong rotten egg (sulfur) smell according to some reviewers.
How Does it Work?
According to Dermnetz, Cysteamine cream works via the following hypothesized mechanisms:
The inhibition of tyrosinase and peroxidase.
Scavenging of dopaquinone.
Chelation of iron and copper ions.
Increase of intracellular glutathione.
How do you Apply Cysteamine Cream?
According to Dr. Nazarian, during the first 16 weeks, you will need to apply the cream once per day. Thereafter, during the maintenance phase, you will just need to apply it two times a week.
Other Cysteamine Based Creams
A number of other companies seem to be selling cysteamine based creams. I will try to update this post as I find more that seem legitimate.
US based Senté makes a Cysteamine based pigment and tone corrector cream. It also includes a patented Heparan Sulfate Analog (HSA). The cream evens out complexion in all skin tones and improves the appearance of dark spots. Moreover, it is hydroquinone-free and safe for long-term use in those with sensitive skin. The cost of one tube is pretty significant at $149.
Note that Cysteamine is not a photosensitizer. This means that it can be applied at any time of the year, regardless of sun intensity.