As a dark skinned person, if you do not use an ideal laser type (usually Nd:YAG) for your hair removal, burn injuries and permanent skin damage are serious possibilities. This week, a number of dermatologists have discussed the sad and shocking burn scars on a brown skinned girl who had laser hair removal on her arms using an incorrect wavelength device.
Among doctors who specialize in ethnic skin treatments that mentioned this case on Instagram include: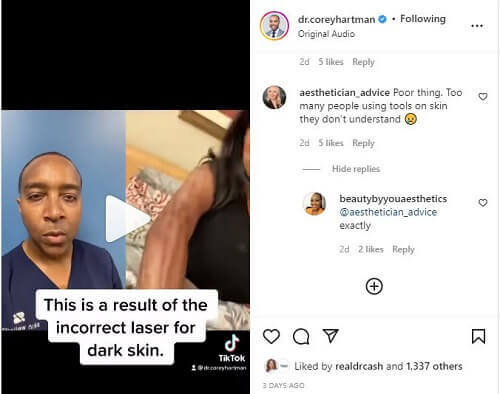 Laser Burn Injuries in Dark Skin
In all the above linked posts, there are hundreds of comments from readers. Some experienced similar burn injuries to this girl after getting laser treatments at inexperienced run-of-the-mill clinics. While most lasers will not cause dark permanent burn marks on people with lighter skin tones, the same is not true when treating darker skin tones.
Also adding to the confusion, if you are on the lighter end of brown skin complexion, you can be treated with other lasers (e.g., the Diode) besides the Nd:YAG. It is imperative to do thorough research on whichever laser your clinic will use for your hair removal. Also ask to see their before and after patient photos of customers with a similar skin type as yourself.
Laser light energy based treatments are not to be taken lightly. Skin damage is often permanent. Moreover, hyperpigmentation and burn mark side effects after incorrect treatment in people of color tend to be far more evident and longer-lasting.