In general, Intense Pulsed Light (IPL) laser hair removal is not safe for people with dark skin tones (skin types 5 and 6 on the Fitzpatrick scale). In my post on the best at-home laser hair removal devices, almost none of them are suitable for people with very dark skin.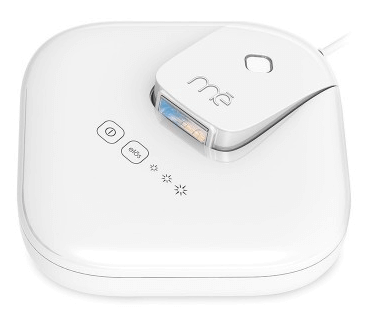 Me Sleek IPL plus RF Hair Reduction
However, recently I heard about a unique at-home hair removal IPL and Radio Frequency (RF) combination device called mē Sleek. It uses dual-wave patented Elos technology that has been used for over 15 years. It is advertised as being the only FDA cleared at-home hair removal technology that is effective on all skin tones and the widest range of hair colors. However, do note that Elos also makes a similar IPL plus RF hair reduction device called Iluminage.
The Sleek permanent hair reduction device is recommended to be used once a week for 7 weeks. After that, it can be used for touch-ups on an as needed basis. It can be used by both women and men. Any large area of body hair below the neck can be treated. Only use it for facial hair below the cheek line. Areas close to the eye region need to be avoided as this can be dangerous for your vision.
According to the manual, each leg can be treated in 8 minutes; an under-arm is done in just 1 minute; each arm takes 2 minutes; bikini area in 1 minute; face in 1 minute; male back in 6 minutes; male chest in 7 minutes; abdomen in 3 minutes; and an entire full body treatment can be done in 25 minutes. Each body area must be treated with 2 or 3 passes due to the gentler IPL energy in this product.
Advantages of Me Sleek
Among the pros of me Sleek include:
FDA cleared for all skin tones. Including fair, medium, olive, light brown and the darkest brown skin types.
CE certification.
Unlimited flashes. Life-time hair removal warranty without the need to purchase any replacement cartridges.
Rapid speed of clearance due to the fast light pulses and large treatment surface area. Among the fastest at-home hair removal devices on the market.
Flashes upon skin contact, so no need to press any buttons.
Sleek design that comes with a power cord, so no battery needed.
Features three speed settings.
Safe and side effect free, with no pain, irritation, discomfort, nicks, cuts, stinging or razor burns.
Many dermatologists and plastic surgeons like this machine because of its versatility in treating patients of all ethnicities and skin types.
Intense Pulsed Light (IPL) and Radio Frequency (RF) Combination Treatment
The combination of both Intense Pulsed Light flashes and Radio Frequency current results in a very effective pain free and safe treatment for people with darker skin. The two energies work in combination to treat your hair follicles, and the resulting IPL is gentler on your skin. Note that the RF energy does not get effected by the melanin content of your skin. Both the IPL and RF provide separate heating of the hair shafts and follicles. i.e., it is a two-fold process of low intensity energy driven hair destruction.
Price and Results
On Brookstone's website, me Sleek is currently priced at $299. On the Elos site, it is listed at a cost of $349. On Wal Mart's site, it is priced at only $170. Considering the unlimited lifetime flashes, this is a very reasonable price in my opinion.
On average, the manufacturer states that customers will notice:
A 46% hair reduction after just 2 weeks.
Up to 94% hair reduction after 7 weeks.