The DEKA Motus AX & AY hair removal lasers use the proprietary "Moveo" technology. Moveo means move in Italian, and these lasers use "in motion" technology. The latest version is the Motus AZ+.
Motus AX and AY Lasers
The original Motus AX laser was the first, high-speed Alexandrite laser that could also treat dark skin tones safely despite the lower wavelength. Historically, darker skinned people who wanted laser treatments had to use higher wavelength diode or Nd:YAG technology. These latter types of lasers are a bit less effective, but also less likely to cause skin damage in darker skin tones. Given the power of the Alexandrite wavelength, individuals could see desired long-term results in fewer treatment sessions.
The Motus AY shares the same innovative laser delivery system as the Motus AX. The main difference is that the AY laser hair removal machine also comes with a Nd:YAG hand piece. Repeated passages of the hand piece and low power pulses prevent any major side effects and safety concerns.
Motus AZ+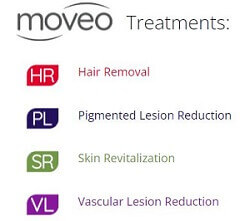 The success of the original DEKA Motus AX and AY platforms has resulted in the new Motus AZ+ laser machine (see video below). It features Gold Standard laser technology with both the Alexandrite (755nm) and Nd:YAG (1064nm) wavelengths. This enables the product to deliver effective treatments for darker skin types.
In addition to hair removal (like its predecessors), Motus AZ+ lasers can treat three other skin conditions. It comes with four separate hand pieces to cover the following laser treatments:
Hair Removal. Used the SkinclusiveTM Alexandrite laser hair removal technology.
Pigmented Lesions. Using Alexandrite.
Skin Revitalization. Using Nd:YAG.
Vascular Lesions. Using Nd:YAG.
Motus AZ+ is manufactured by DEKA, Europe's top aesthetics laser manufacturer. It is available exclusively in the US via Cartessa Aesthetics.
The latest version: Motus AZ+
The Deka Motus AZ+ "in-motion" Alexandrite and Nd:YAG gradual heating results in treatments that are comfortable and quick. The 20mm sapphire tip means that larger areas can be treated quickly. The AZ+ also features integrated contact cooling, limiting potential skin damage and discomfort from overheating.
Dr. Paul Frank's nurse treating a patient with Motus AX: