In the past, laser hair removal was not safe and effective for Indian skin. However, laser device manufacturing technology has advanced tremendously during the past decade and this is no longer true.
As of 2023, laser hair removal can work well in Indian skin, but one has to be selective in the type of laser wavelength used. The treatment pulse duration, power setting and cooling mechanism all impact success and side effect rates in brown skin.
What Lasers are Best for Indian Skin Hair Removal?
A majority of people from India tend to have darker skin types IV-VI on the Fitzpatrick scale. For such highly pigmented skin, Nd:YAG lasers are the most suitable for laser hair removal, although Diode lasers can also be effective.
Among the main laser types, Nd:YAG (1064-nm wavelength) lasers penetrate the deepest into the skin (5-7 mm into the dermis). As a result, they only target the darker pigmented hair, but not the pigment in the skin. This prevents any trauma to the skin that could lead to scars and hyperpigmentation.
One of the most popular options for hair removal in darker South Asian skin is the GentleYAG® and GentleMax® series from Candela. The former is a YAG (1064 nm) laser, but the latter is a combination of the Alexandrite (755nm) and YAG.
The Musk Clinic in Ahmedabad (India) uses the unique Alma Soprano Ice Platinum laser for laser hair reduction. This laser combines all three main wavelengths that you see in lasers (Alexandrite, Diode and Nd:YAG) via one handpiece. The manufacturer calls this the trio clustered diode technology for laser hair removal. This laser targets the hair follicle bulge, bulb and deeper layer dermal papilla cells.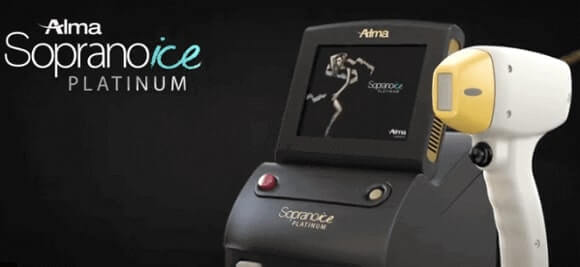 Note that some Indians have fairer skin type III with a bit less melanin. In such cases, even some IPL at-home lasers can be effective for hair removal. Within South Asia (India, Pakistan, Bangladesh and Sri Lanka), residents typically describe themselves as having a fair, wheatish or dark skin tone. A recent 2022 study from India found that an 810 nm diode laser is safe and effective in the reduction of dark, coarse terminal facial and axillary hairs in Fitzpatrick skin types III-V.
Before and After Results
On YouTube, you can find tons of videos of Indian patients discussing their experiences with laser hair removal, including before and after photos. One famous personality recently even discussed her 10 year laser hair removal update. On Reddit, many people also discuss their results in subreddits such as IndianSkincareAddicts. Some people had success with full body hair removal using both the YAG and Diode lasers.
In many cases, people will see major permanent body hair removal success after the recommended 6-10 treatments. However, all the body hair will not go away, hence the alternative term "body hair reduction" that is used by many industry experts.
Best Clinics for Indian Laser Hair Removal
Make sure to read my post on black and brown skin laser resources. In there, I list the names of most top clinics in India that specialize in treating Indian skin with laser. Many of them have numerous before and after photos of their tanned skin South Asian patients on their website.
Make sure to do a patch test before undertaking large scale laser hair reduction treatment. You want to get an idea about how your darker skin reacts to the light energy before opting for regular sessions.
Also make sure to not fall for marketing gimmicks and discount promotional offers. Check all online reviews of the clinic and doctor you select. Pick the best and safest, even if their prices are higher. In the long run, this will increase your overall satisfaction rate.
Frequently Asked Questions
Below are some frequently asked questions about laser hair removal in Indian skin.
Does laser hair removal work on Indian skin?
Yes, laser hair removal does work effectively on Indian skin. However, one must be careful in using an appropriate wavelength laser such as the Nd:YAG that effectively targets the higher melanin content in Indian skin.
What is the best laser for Indian hair removal?
The Nd:YAG and Diode lasers are the most effective and popular lasers for Indian body hair removal. Their wavelengths ensure safe hair removal without damaging darker toned Indian skin.
Is IPL good for Indian skin?
IPL treatments are only safe for Fitzpatrick skin types 1-4. Most Indians have skin types 5 or 6. However, IPL is safe for South Asians with lighter skin tones.
Does laser hair removal cause side effects in Indian skin tone?
New generation lasers are perfectly safe the darker Indian skin tone. Older lasers used to result in side effects burns and skin darkening. But newer lasers that use Nd:YAG and Diode wavelengths are free from such side effects.