Since I started this site, I have written several articles about the most suitable lasers for hair removal in people with dark skin. A new article from ABC warns about the dangers of laser hair removal in people with darker skin. One has to exercise the utmost caution before proceeding with such a treatment if you have highly pigmented skin.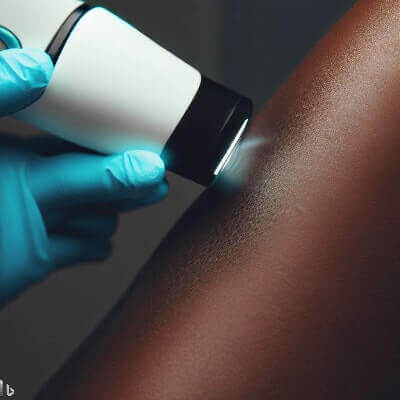 Dark Skinned People Urged to Take Precautions with Laser Hair Removal
In the new ABC article, it is emphasized that not all hair removal lasers are suitable for use in people with darker skin. On Nightline, they interviewed Eshanka Jayasinghe, a darker skinned South Asian origin woman who got major scarring and sun sensitivity after her laser hair removal procedures.
With the laser hair removal industry booming, an ever increasing number of clinics are treating people of color without suitable equipment or relevant experience.
It's estimated about a million people get laser hair removal annually, and the industry rakes in around $300 million a year, according to the American Society of Plastic Surgeons.
According to board-certified dermatologist Dr. Jeanine Downie, laser hair removal machines are strong and can cause permanent skin damage and scarring when in the wrong person's hands. High demand for this procedure has resulted in clinicians who do not have proper training or medical knowledge about the risks to darker skin.
In general, Nd:Yag lasers are the most suitable in removing hair from people with skin types 4-6 on the Fitzpatrick scale. However, there are also other machines nowadays that combine several different wavelengths into one handpiece.
It should also be noted that not all dark skin is the same. People with African skin tones require a different treatment strategy in comparison to people with East Indian skin. See my post on laser hair removal in Indian skin.
If you do not take precautions, the use of an inappropriate laser for darker skin types can even cause potentially permanent burns on your skin. Make sure to go to a clinic that has significant experience in treating people of your skin type and ethnicity. And they need to show you a range of before and after photos of their past darker skinned patients.
Also of major importance, do not undergo any kind of laser procedure if you have had significant recent sun exposure. And if you have grey or white body hair, the laser will not succeed in eliminating the follicles.